- Sun Oct 21, 2012 10:46 am
#5514
Voyager: the space explorers that are still boldly going to the stars
Nasa's two Voyager ships have reached the edge of the solar system – and their incredible 35-year journey is far from over.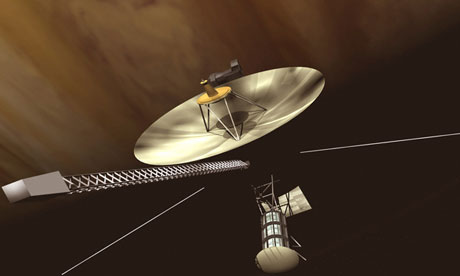 Voyager 2 passed Jupiter in 1979. Ten years later, after observing Neptune,
it began its journey out of the solar system. Composite: BBC2
The year 1977 was an important one for music. Fleetwood Mac's Rumours and the Sex Pistols' Never Mind the Bollocks were released. Elvis left the building for the last time, dying at the age of only 42. But amid all this rock'n'roll history another less celebrated but far more significant album was quietly being made.
Fashioned from copper rather than vinyl, and plated with gold for longevity, The Sounds Of Earth was compiled by the American astronomer Carl Sagan. It was a broader range of music than most of the other albums released that year, aiming to encapsulate 5,000 years of human culture; from an Australian Aborigine song and an Indian raga to Azerbaijani bagpipes, bamboo flutes, Bach, Beethoven and Chuck Berry...
Click here to continue reading the whole article...
Source:
Guardian Science
Voyager:
A space odyssey – in pictures
Wikipedia:
Voyager program
"You never change things by fighting the existing reality. To change something, build a new model that makes the existing model obsolete." R.Buckminster Fuller